Loss
"Illustrated form tells you through the intelligence immediately what the form is about, whereas a non-illustrated form works first upon sensation and then slowly leaks back in [to] the fact." Francis Bacon
In 2006, I lost my second son to Sudden Infant Death Syndrome. In my devastation, I left behind any notions of consciously making recognisable figures in my work. My painting was used as a vehicle to explore loss and separation. With Sudden Infant Death Syndrome aka "cot death", one is left with shock, uncertainty and disbelief, so I found myself enquiring into notions of death and (de)parting, choosing to concentrate on evoking energy, whilst aiming to commune with and communicate "the other", whatever that may be.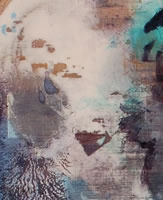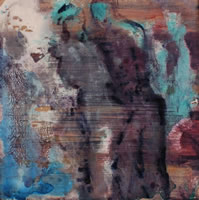 In a heightened awareness I used colour and rhythm, allowing the images to emerge. The paintings became very loose and fluid and as I studied them, I observed faces, shapes and relationships playing out dramas I wasn't conscious of, but somehow parallel to what I was going through. Eulogy was created in the immediate aftermath, in one session, over a background I had previously made. On reflection, I could see three central figures – drawn in a dark line that looked like a man, a woman, and a child. I took those to be my husband, Paul, my son Jasper (who was five at the time) and myself. A few weeks later a friend pointed out the image of a baby's smiling face in the upper left of the painting (see Eulogy, detail).
This approach made the act of creating extremely surprising and exciting, whilst giving me a sense of trust in the act of "letting go" in my work. The Manifestation series reflects the ongoing development of that method of working.
Loss
2007-2008